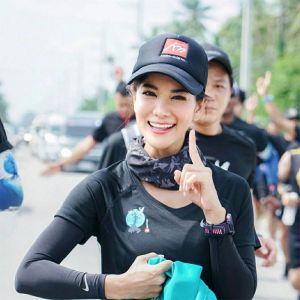 Education – B.A. Communication Arts, Faculty of Communication Arts, Chulalongkorn University, major in Performing Arts and minor in Motion Pictures and Still Photography/ Mass Communication (Radio and Television)
Occupation – Independent actress and brand owner of Atira, supplementary food
Filmography – Movie: Rak Sam Sao (The Last Moment, 2008) October Sonata (2009) and Khun Phan 2 (2019)
TV series: Zeal 5, Kor Pen Jaosao Suk Krung Hai Cheun Jai, Ok Gueb Huk Abb Ruk Khun Samee (in production) and many more
Award
2009 Best Actress from the movie "Rak Sam Sao" (The Last Moment), National Film Association Award
2016 Ideal Child from the annual National Honorary Award
2018 Top Talk-About Lady from M-Thai Top Talk-About Awards
Rachwin Wongviriya is a runner and part of Kao Kon La Kao team, initiated by Artiwara Khongmalai.
2016 Kao Kon La Kao project for Bang Saphan Hospital, Prachuap Kiri Khan
2017 Kao Kon La Kao project for 11 hospitals nationwide from Betong to Mae Sai, covering 2,215 km. in 55 days
2019 Co-founding Kao Kon La Kao-Kao Tor Pai Duay Palang Lek Lek for hospitals in the five regions
2018 Finisher Kyoto Marathon
2018 Third overall 30-34 age group, Macao Marathon
2019 Finisher Tokyo Marathon
2019 Finisher Saroma 50K (her first ultra-marathon)
2019 Finisher Chicago Marathon at 3:48 hrs, her first Sub4 marathon (latest accomplishment)
During the past two years, Koy has taken running seriously through self-development, practices, and discipline. She has participated in more than 40 running events in Thailand and received multiple accolades from the events.
Present
2019 – Nike brand ambassador
The first Thai woman to be featured in worldwide Nike advertisement.
Brand ambassador for world-renowned brands such as Biotherm and Perskindol.
Personal motto and hashtag: Koy is not perfect but Koy will not stop.