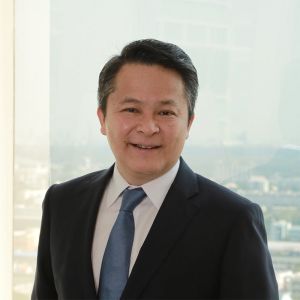 A veteran of the asset management industry, Mr. Peerapong Jirasevijinda has been serving as Chief Executive Officer of BBL Asset Management Co., Ltd. since February 2017. He assumes full responsibility over the overall business strategy of the company, which prides himself as a pioneer in the Thai asset management industry.
Under Mr. Peerapong's leadership, BBL Asset Management has gained broad recognition and reputation as Thailand's leading house in asset management, with best practice in its core philosophy – PIE (Prudence, Integrity and Excellence).
Before his appointment as CEO, Mr. Peerapong served as Chief Investment Officer of BBL Asset Management Company, generally known as Bualuang Fund, having established himself as an all-around money and investment manager. His whole career has been focusing mostly on investment and asset management. In addition, he oversees the investment aspects of the mutual fund altogether with the provident and private fund business.
Mr. Peerapong graduated from the Georgia State University with magna cum laude honor and earned his Master's Degree in Marketing from Sasin Graduate Institute of Business Administration of Chulalongkorn University. He received his primary and high school education in Taiwan. He is well-versed in Thai, Chinese and English.
He started his career as an Investment Banker at Phatra Thanakit Finance and Securities PCL before moving on to MFC Asset Management PCL. He joined BBL Asset Management Co., Ltd. in 2002.
Mr. Peerapong has been a regular guest speaker for the Stock Exchange of Thailand (SET) and the Association of Investment Management Companies (AIMC). He is also invited to lecture in the Master of Business Administration program (MBA) of Chulalongkorn University as well as the Advanced Master of Management program of the National Institute of Development Administration (NIDA). Mr. Peerapong also takes time off to speak at various forums held by government agencies, state enterprises and private companies on matters about investment outlook and investment industry.